Edie Windsor, plaintiff in landmark Supreme Court same-sex marriage case, dies at 88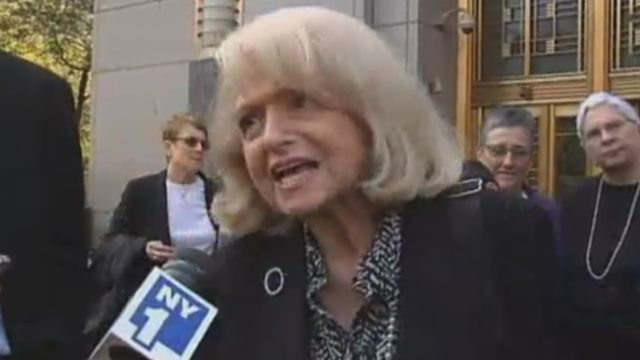 Edie Windsor, who was the lead plaintiff in a landmark Supreme Court case that struck down a key provision of the Defense of Marriage Act, has died.
Windsor died in New York City on Tuesday.
Her death was confirmed in statements by her wife, Judith Kasen-Windsor, and her attorney, Roberta Kaplan.
She fought against the federal Defense of Marriage Act, which defined marriage as between a man and a woman. The act caused Windsor to be left with a $363,000 estate tax bill when her first spouse, Thea Spyer, died in 2009. Windsor and Spyer were married in Canada in 2007.
The Supreme Court overturned a key provision of the act in 2013 by a 5-4 vote. It ruled that legally married same-sex couples are entitled to the same federal benefits that heterosexual couples receive.
Several New York politicians wrote tributes to Windsor on Twitter.
#ediewindsor was tough as nails & sweet as sugar & generous of soul as the day is long. #RIP #lgbtq #marriageequaility #SCOTUS

— Christine Quinn (@chriscquinn) September 12, 2017
"Heartbroken to learn of the passing of my friend Edie Windsor," Governor Andrew Cuomo wrote. "Fight for what is right and change the world."
"Rest in power, Edie," state Attorney General Eric Schneiderman wrote. "The work goes on."
A public memorial for Windsor will be held at Riverside Memorial Chapel this Friday at 12:30 p.m.
Edie Windsor was 88 years old.