A total solar eclipse is set for Monday, Aug. 21. Spectrum News has you covered for the big event.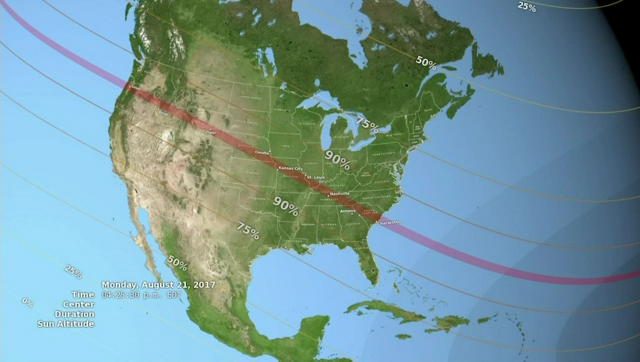 What is a Solar Eclipse?
A solar eclipse is when the moon passes between the sun and the earth and blocks the sun. It happens due to a coincidence of the moon and the sun being the same angular size.
The last time the United States saw a total eclipse was back in 1979.
Information from eclipse2017.nasa.gov

When will the Eclipse Take Place?
All of North America will be able to see at least a partial total eclipse, but the timing depends on location.
A strip across the country, about 70 miles wide, will be able to witness the total eclipse. The longest period that the moon will block the sun for people in those areas will be about two minutes and 40 seconds.
Information from eclipse2017.nasa.gov
Watch below for more on the exact timeline:
Eclipse Safety: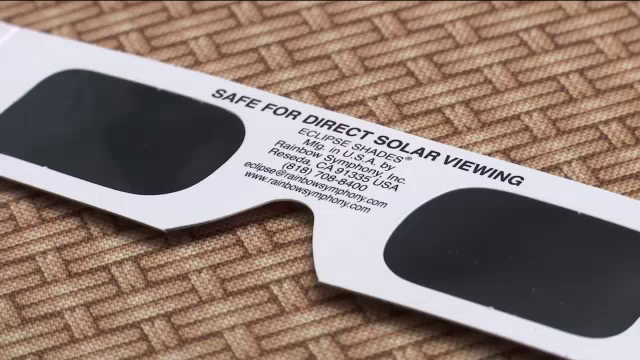 Except for during the short "total" phase of the solar eclipse (totality) when the sun is entirely blocked by the moon, precautions need to be taken to view the eclipse safely. Staring at the sun directly can damage eyes, and sunglasses are NOT strong enough to protect your eyes during an eclipse.
NASA offers the following tips for eye safety during the eclipse:
Sunglasses or handmade filters are not safe methods for viewing an eclipse and may damage your eyes.
Eclipse glasses (pictured above) or hand-held solar viewers are both good options for viewing the eclipse. According to NASA, the following brands make products that meet safety standards: Rainbow Symphony, American Paper Optics, Thousand Oaks Optical and TSE 17.
Experts also suggest using number 14 welder's glass to view the solar eclipse. The glass should be number 14 or an even darker filter.
Telescopes with solar filters and pinhole projectors are also viable options.
Do not remove your glasses or solar viewer while staring at the sun.
Do not look at the uneclipsed or partially eclipsed sun through an unfiltered camera, telescope or binoculars. Also, even while using your eclipse glasses or solar viewers, do not look through a camera, telescope or binoculars because the solar rays can damage the filter and enter your eyes.
Only take off solar glasses or viewers when the sun is completely covered by the moon.
No matter what technique you use to protect your eyes during the eclipse, it is important to still take breaks and not stare continuously at the sun.
Eclipse Fun Facts:
This solar eclipse will be the first one the continental U.S. has seen in 38 years.
The first city to experience this eclipse in the continental U.S. will be Government Point, Oregon, at 10:15 a.m. (PDT).
Of large U.S. cities, Nashville will have the best view of the total eclipse.
Feeling a 10 to 15 degree drop during the eclipse is not unusual. Also nature tends to quiet down while it's taking place.
The next solar eclipse for the continental U.S. will take place on April 8, 2024. After that, it'll be 20 years until the next one on Aug. 23, 2044.
Places on the center line will be the best locations to view the eclipse from. The center line crosses through states including Oregon, Wyoming, Nebraska, Kansas, Illinois, Missouri, Kentucky, Tennessee, Idaho, North Carolina and South Carolina.
Information from astronomy.com