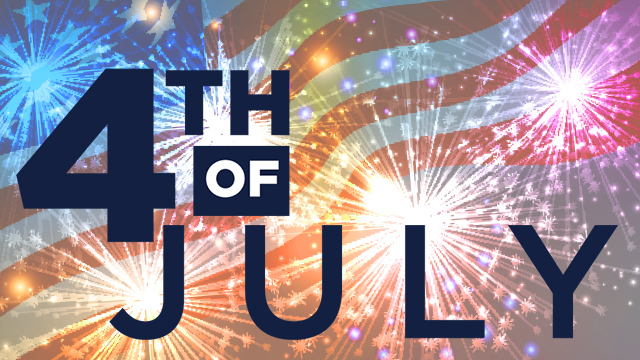 National Fourth of July events
A Capitol Fourth Concert
Tuesday, July 4 – 8 p.m. to 9:30 p.m. EST
A July Fourth tradition in the nation's capital includes performances by the National Symphony Orchestra, the Choral Arts Society of Washington and more.
The concert will be broadcast live on PBS from the West Lawn of the U.S. Capitol.
The event concludes with a spectacular display of fireworks over the Washington Monument.
DETAILS: http://www.pbs.org/a-capitol-fourth/home/
July 4th at the National Archives
The National Archives celebrates the nation's birthday with special programming, including a viewing of the original Declaration of Independence.
Other activities include story time, crafts and a chance to meet George Washington, Thomas Jefferson and Ben Franklin.
The celebration will be also be shared on the National Archives' YouTube and Facebook pages.
DETAILS: https://www.archives.gov/news/topics/july4
National Independence Day Parade
Tuesday, July 4 from 11:45 a.m. to 2 p.m.
The National Independence Day parade in Washington, D.C. features marching bands, floats and military units.
The parade starts at 11:45 a.m. from Constitution Avenue and 7th Street to Constitution Avenue and 17th Street.
It draws large crowds each year.
DETAILS: http://www.july4thparade.com/
Coastal Events
City of Wilmington 4th of July Celebration
Independence Day BBQ Sunday, July 2
Southport 4th of July Festival Sunday, July 2-4
Town of Duck Annual 4th of July Parade
4th of July Fireworks Off the Pier
Did you know…
The Continental Congress adopted the final version of the Declaration of Independence on July 4, 1776. -- (pbs.org)
Of the 13 colonies, nine voted in favor of the Declaration, two – Pennsylvania and South Carolina – voted no, Delaware was undecided and New York abstained. – (military.com)
The Declaration of Independence was drafted by Thomas Jefferson. – (history.com)
On July 8, 1776, the first public readings of the Declaration were held in Philadelphia's Independence Square. – (pbs.org)
On July 4, 1777, Philadelphia marked Independence Day by adjourning congress and celebrating with bonfires, bells, and fireworks. – (pbs.org)
Observing Independence Day only became commonplace after the War of 1812. – (loc.gov)
Congress passed a law making Independence Day a federal holiday on June 28, 1870. – (loc.gov)
13 colonies made up the United States of America when it was born.
John Adams believed that July 2nd – the day the Continental Congress voted for independence – was the correct date on which to celebrate the birth of American independence. – (history.com)
John Adams and Thomas Jefferson both died on July 4, 1826 – the 59th anniversary of the adoption of the Declaration of Independence. – (history.com)
Today, the original copy of the Declaration is housed in the National Archives in Washington, D.C. – (military.com)
TEST YOUR 4TH OF JULY KNOWLEDGE
SPECTRUM NEWS COMMUNITY SPONSORSHIPS