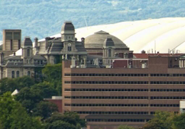 Spectrum News began cablecasting as News 10 Now on November 7, 2003 — we are part of a network of fourteen 24-hour local news channels owned and operated by Charter Communications nationwide. Spectrum News operates from its headquarters building in downtown Syracuse, the historic former New York Central train station. Spectrum News has a huge coverage area, a 15,000+ square mile chunk of Upstate New York, and to cover that well we provide two separate program feeds. Spectrum News for Central and Northern New York covers the metropolitan Syracuse area, Utica and the Mohawk Valley, the Adirondack Tri-Lakes area, plus Watertown and the St. Lawrence Seaway/Canadian border region. Spectrum News for the Southern Tier covers the Binghamton/Oneonta and Elmira/Corning/Hornell areas, plus a portion of Northern Pennsylvania.
Spectrum News has the region's largest local TV news team, with six regional newsrooms and three satellite newsgathering trucks. Spectrum News features a local weather forecast every 10 minutes. Eight meteorologists operate from our "Weather on the 1s" forecast center, using the very latest weathergathering and severe storm-tracking technology. Spectrum News' hourly program wheel includes local sports twice an hour, 16 hours a day.
Spectrum News is at the center of a statewide network of Spectrum Networks' 24-hour newschannels, including our sister channels in Albany, Rochester, Buffalo, and our flagship channel Spectrum News NY1 in New York City. That means every Spectrum cable customer across the state enjoys 24-hour local news, available only on cable. Our statewide reach puts our viewers at the forefront of major news events affecting all New Yorkers. Every weeknight at 8:00 and again at 11:30, our statewide program Capital Tonight keeps you completely on top of New York government, politics and statewide issues of importance.
Many of Spectrum News' team members are native Upstate New Yorkers who have chosen to stay in or return to this region to be part of one of the most technologically advanced newsgathering and production systems in the nation.​

Spectrum customers get full access
to all our video, including our live stream.