Watch Us on the Go With the Spectrum News App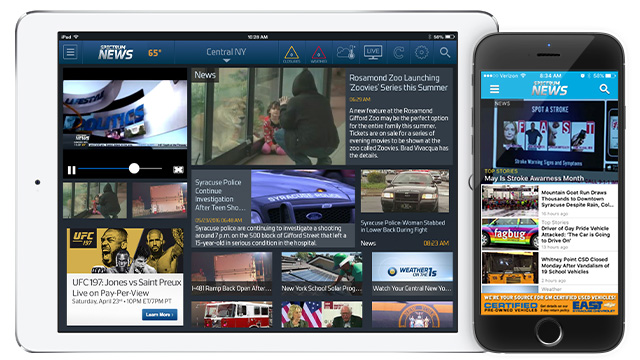 Take our news coverage with you with the Spectrum News app.
Taking us with you is easy with the Spectrum News app, featuring a live stream of the news channel and on-demand weather and video content.
Optimized for both phones and tablets, the Spectrum News app is available for iOS as well as Android devices.
The app features a 24/7 live stream of your local Spectrum News channel plus access to our on-demand news, sports and weather clips, as well as your Weather on the 1s forecast and comprehensive weather maps, plus our "Report News" feature which lets you send information, pictures and video directly to our newsrooms.
Access to most of our video clips is open to all users with no login required. Users who aren't Spectrum video customers can also view up to ten full shows every 30 days. Want to get unlimited access to all video content, including our live streams? Sign up for Spectrum service here.
Looking for news from other locations? Just tap the location at the top of the menu to access news from any of our 15 other news channels.
Follow the links on the right to download the app from either the iOS App Store or the Google Play store.
Like our news channel websites, all text and short-form video clips are free to access, but live video and show clips are available exclusively for Spectrum or TWC video subscribers who get one of our news channels on their cable box, and must be accessed with a TWC ID, available here.
Want to get unlimited access to all video content? Sign up for Spectrum service here.
Spectrum News App for Phone and Tablet

Spectrum customers get full access
to all our video, including our live stream.