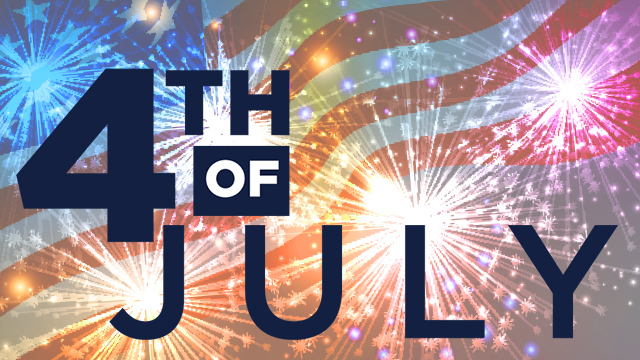 Watch Spectrum News for full coverage of Fourth of July celebrations around Austin, as well as greater Central Texas: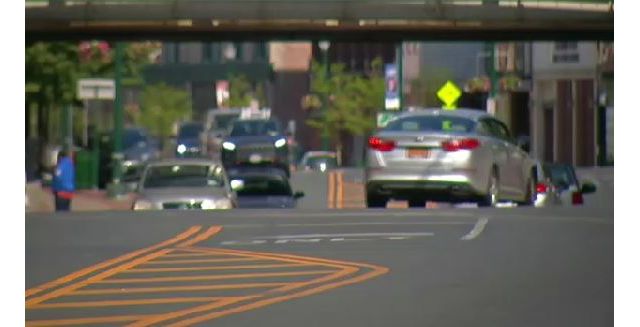 AAA has some tips to help people stay safe over the July Fourth weekend. It suggests drivers take note of construction and allow for extra time to get to where you need to be for the holiday. The organization also suggests...
Thursday, June 30, 2016 at 05:18 PM CDT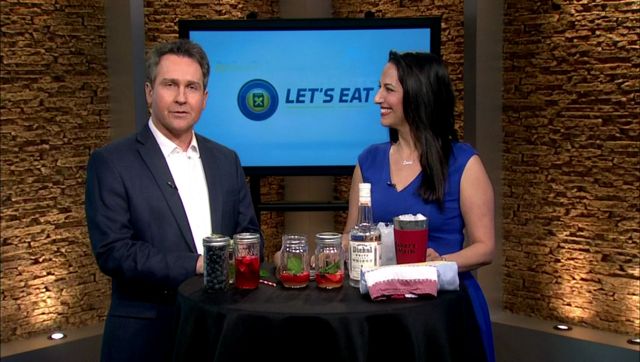 On "Let's Eat," learn a great cocktail option for Fourth of July festivities.
Tuesday, June 28, 2016 at 02:40 PM CDT
---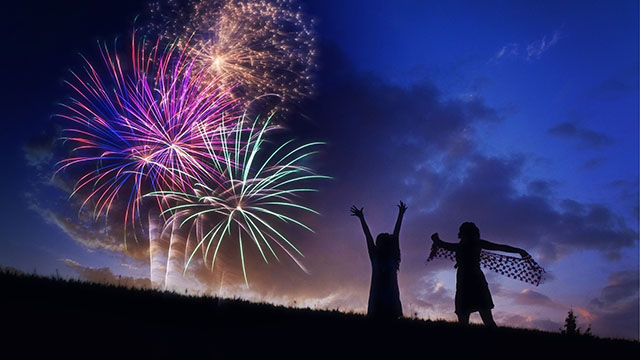 LOCAL EVENTS:
Bastrop Patriotic Festival: June 30-July 1, Bastrop
The event begins 8 p.m. Friday with Bastrop's 1st 5K Red, White & Blue Glow Run. It is an all-ages event. Attendees are encouraged to wear their best glow attire. After the run, from 9 p.m. to 12 a.m., there will be a dance party at Fisherman's Park. On Saturday, July 1, there will be a petting zoo and volleyball games from 10 a.m. to 4 p.m. The Bastrop Area Cruisers vintage cars will be on display at the Boat Ramp parking lot as well. From 10 a.m. to 8 p.m., a "Water Wonderland" with water slides will be open for kids. Cost to attend waterpark is $10. Also at 10 a.m., the Pet 'n' Me Costume Contest. The day ends with a fireworks display and music by the Austin Symphonic Band.
H-E-B Free First Sundays: Red, White, Blues: July 2, noon to 5 p.m., Bob Bullock Museum, Austin
At July's H-E-B Free First Sunday, celebrate our nation's birthday with activities that are as American as apple pie. From creating a hat for our festive parade to writing a bluesy summer tune, join us for creative fun.
Willie Nelson's 4th of July Picnic: July 4, Circuit of Americas, Austin
Featuring music by Willie Nelson & family, Sheryl Crow, Kacey Musgraves, Jamey Johnson and more. $39.50-$550, Doors at 11 a.m.
The 4th of July Grateful Ball: July 4, 6 p.m., Empire Control Room, Austin
Listen to the timeless music of the Grateful Dead with The Travelin' McCourys and Jeff Austin Band. $15-50, Doors at 6 p.m.
7th Annual Corn Dog Eating Contest: July 4, 2 p.m., Black Sheep Lodge, Austin
There is a $20 entry fee, but each contestant will get a free commemorative T-shirt and the winner will take home the $250 cash prize.
Frontier Days Celebration: July 4, 10 a.m. to 11 p.m., Old Settlers Park, Round Rock
Featuring a performance by the Austin Symphonic Band, the event features free watermelon, skydivers, pig races, music and fireworks in celebration of the 4th.
HEB Fourth of July Fireworks and Symphony: July 4, Vic Mathias Shores, Austin
The Austin Symphony hosts an annual concert of patriotic music culminating in a spectacular firework display over Lady Bird Lake. Formerly Auditorium Shores, symphony starts at 8 p.m.
Hill Country Galleria Independence Day Celebration: July 4, all day, Hill Country Galleria, Bee Caves
Shopping, music, barbecue, fireworks and fun for the whole family, including the dogs.
Red, White and Buda: July 4, 8 a.m. to 11 p.m., Buda City Park, Buda
Starting at 9 a.m., there will be a Patriotic Parade on Main Street. Line up begins at 8:30 a.m. at City Hall. Awards will be given to the best decorated bikes. After the parade, more festivities at Buda City Hall. No motorized vehicles allowed during parade. For the evening, from 7 to 10 p.m., food, entertainment and a fireworks show. Fireworks begin at 9:30 p.m.
Cedar Park Fourth of July Celebration: July 4, 10 a.m. to 10 p.m., Cedar Park
Live music, bingo, a washer tournament, air castles, free watermelon and a fireworks display. Fees apply for food concessions, face painting, and carnival games and rides. Milburn Pool will also be open with daily admission rates applying.
Sertoma's 30th Annual Fourth of July: July 4, 11 a.m. to 10 p.m., San Gabriel Park, Georgetown
Over 60 arts and craft booths, 20 food vendors, kiddie rides and games along with a petting zoo are provided for the children. Musical entertainment will begin at the Gazebo at noon and will continue all day. A "Hometown Parade", sponsored by the Leadership Georgetown Alumni begins at 11 a.m. at the low water crossing, ending at the Gazebo. The 4th of July Celebration is free to attend. Around 9:30 p.m. people will populate all the parking lots and high ground to view the "Fabulous Fireworks Finale" provided by GWPyro.
Lakeway Fourth of July: July 4, 8:30 a.m., Lakeway
At 8:30 a.m., a parade begins on Lakeway Drive from Live Oak Golf Course to the Lakeway Church at the top of the hill at Lakeway Drive/Lakeway Blvd. At 10:30 a.m., Pageantry of the Flags at the Lakeway Activity Center, 105 Cross Creek, featuring a keynote address by our Grand Marshal, Anna-Brita Stevens, patriotic music and parade awards. From noon to 8 p.m., the Lakeway Swim Center will be open later so swimmers can have more time for an evening splash. Cost is $3 per person.
Leander Liberty Festival: July 4, 5 to 10 p.m., Leander
Free, family-friendly event with live music from the Josh Abbott Band, vendors, children's activities and fireworks.
Pflugerville Pfireworks Pfestival: July 4, 5 to 10:30 p.m., the Pfield, Pflugerville
From 6 to 7:30 p.m., the BlueBonnets will perform, 7:45 to 8:45 p.m., SkyRocket! Mayor Gonzales will give his welcome, the National Anthem and Pledge of Allegiance will be performed starting at 8:50 p.m. The Pfireworks show begins at approximately 9:15 p.m. Note: A clear bag policy in effect. The only items that can be brought in must be in a clear plastic bag, or clear backpack. No purses, diaper bags or backpacks permitted.
Summerfest San Marcos: July 4, 6 to 10 p.m., San Marcos Plaza Park, San Marcos
At 6 p.m., event kicks off with music from the Heart of Texas Concert Band. At 6:30 p.m., parade registration begins. At 7 p.m., a children's patriotic costume contest and parade kicks off. Music at 7:30 p.m. from David Ybarra and the L.A. Blues Band. At around 9:30 p.m., the fireworks display begins. Admission is free.
Fireworks Paddle 2017: July 4, 7:30 to 10:30 p.m., Rowing Dock, 2418 Stratford Drive, Austin
Celebrate Independence Day from the water. Catch a fireworks display over Lady Bird Lake your boat. Late night rentals of kayaks, canoes, and stand up paddle boards are by reservation with prepayment only. Rentals range from $45 to $90.
Lago Vista Fourth of July: July 4, 9:30 a.m., Lago Vista Golf Course and Greenshore, Lago Vista
Lago Vista's Patriotic Parade starts at 9:30 a.m. on Dawn Drive with Ann Murrow as Grand Marshal. Catch fireworks, music and family fun at the Lago Vista Golf Course and Greenshore Park area! The city is offering air-conditioned CapMetro bus ride from the high school to the Golf Club starting at 5:30 p.m. Return buses will take you back to your car as soon as the fireworks are over.
---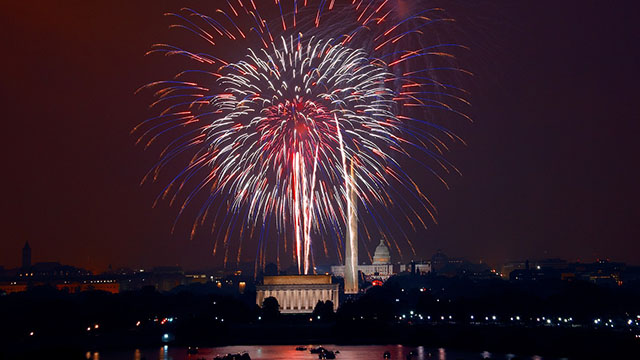 NATIONAL EVENTS:
A Capitol Fourth Concert
Tuesday, July 4 – 8 p.m. to 9:30 p.m. EST
A July Fourth tradition in the nation's capital includes performances by the National Symphony Orchestra, the Choral Arts Society of Washington and more.
The concert will be broadcast live on PBS from the West Lawn of the U.S. Capitol.
The event concludes with a spectacular display of fireworks over the Washington Monument.
DETAILS: http://www.pbs.org/a-capitol-fourth/home/
July 4th at the National Archives
The National Archives celebrates the nation's birthday with special programming, including a viewing of the original Declaration of Independence.
Other activities include story time, crafts and a chance to meet George Washington, Thomas Jefferson and Ben Franklin.
The celebration will be also be shared on the National Archives' YouTube and Facebook pages.
DETAILS: https://www.archives.gov/news/topics/july4
National Independence Day Parade
Tuesday, July 4 from 11:45 a.m. to 2 p.m.
The National Independence Day parade in Washington, D.C. features marching bands, floats and military units.
The parade starts at 11:45 a.m. from Constitution Avenue and 7th Street to Constitution Avenue and 17th Street.
It draws large crowds each year.
DETAILS: http://www.july4thparade.com/
---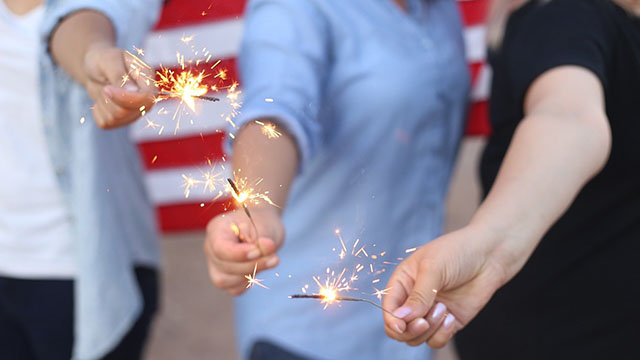 DID YOU KNOW…
The Continental Congress adopted the final version of the Declaration of Independence on July 4, 1776. -- (pbs.org)
Of the 13 colonies, nine voted in favor of the Declaration, two – Pennsylvania and South Carolina – voted no, Delaware was undecided and New York abstained. – (military.com)
The Declaration of Independence was drafted by Thomas Jefferson. – (history.com)
On July 8, 1776, the first public readings of the Declaration were held in Philadelphia's Independence Square. – (pbs.org)
On July 4, 1777, Philadelphia marked Independence Day by adjourning congress and celebrating with bonfires, bells, and fireworks. – (pbs.org)
Observing Independence Day only became commonplace after the War of 1812. – (loc.gov)
Congress passed a law making Independence Day a federal holiday on June 28, 1870. – (loc.gov)
13 colonies made up the United States of America when it was born.
John Adams believed that July 2nd – the day the Continental Congress voted for independence – was the correct date on which to celebrate the birth of American independence. – (history.com)
John Adams and Thomas Jefferson both died on July 4, 1826 – the 59th anniversary of the adoption of the Declaration of Independence. – (history.com)
Today, the original copy of the Declaration is housed in the National Archives in Washington, D.C. – (military.com)
---
QUIZ: