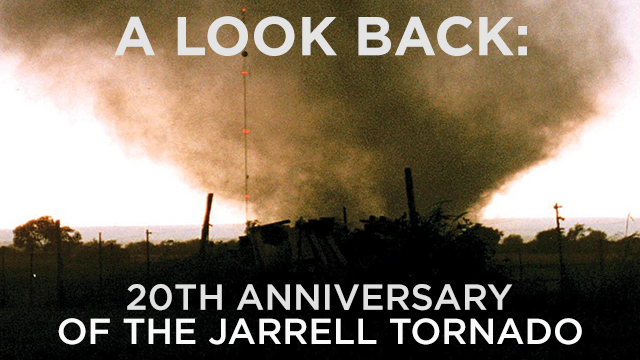 On the 20th Anniversary of the deadly Central Texas twister outbreak, Spectrum News looks back to May 27, 1997, and the violent F5 tornado that devastated the City of Jarrell.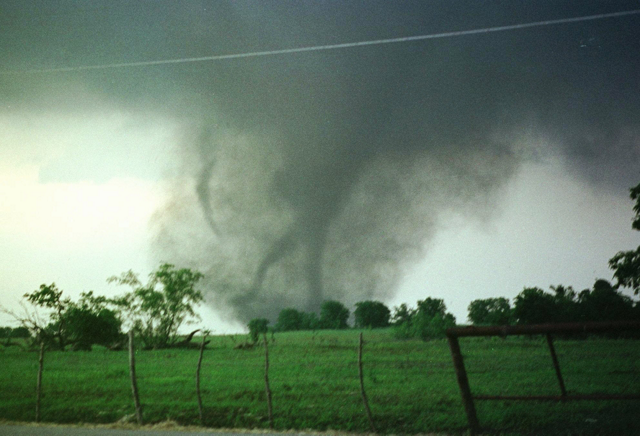 Three separate funnels could be seen as the tornado touched down near Jarrell. It's said that a Native American legend called this formation the "Dead Man Walking," meaning, if you see this image within a twister, it will be deadly.
AP Photo/Scott Beckwith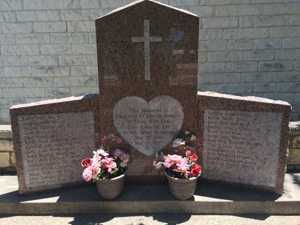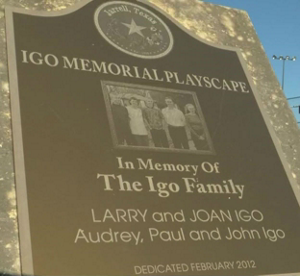 "I think the word has to be gotten out over and over again that, rare as they are, they do occur and we have to be prepared for it." - Meteorologist Lon Curtis, who chased the Jarrell Tornado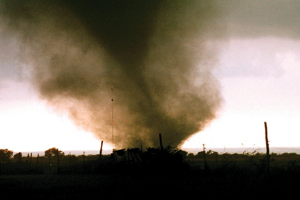 AP Photo/Theresa Schuch
"You watch it and you know how dangerous it is, but you realize there's literally nothing you can do." - Priscilla King, Jarrell Tornado survivor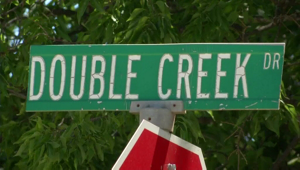 "Everything was just gone. Those site built homes had just been, like somebody taking their hand and just completely wiping them." - Williamson County Sheriff's Cmdr. James David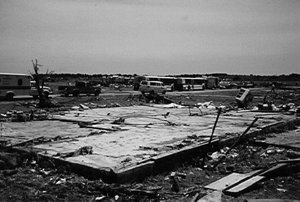 Source: NWS
"One of the things about Williamson, Travis and Hays counties is that the people who are moving in everyday from different parts of the country -- some of them, at least, don't know tornadoes." - Lon Curtis
The Jarrell Tornado is the last confirmed F5 tornado to touch down in the state of Texas.
This tornado followed an unusual path, moving to the south-southwest and has revived studies on the role of gravity waves on thunderstorm initiation.
Wind speeds were estimated to have peaked between 260 and 320 mph.
The storm killed 27 people, injured 12 more and left hundreds of cattle dead.
Double Creek Estates, a subdivision that once supported 50 sturdy homes, was nowhere to be found after the tornado moved through in a 5-mile-long, half-mile-wide swath.
Source: Texas DPS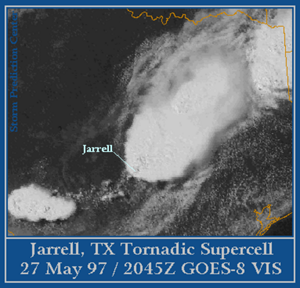 "You saw things out there that, in your mind, weren't right. I found a telephone pole at one intersection. At the telephone pole, there was a belt around the telephone pole and it was buckled. So, in my mind I was looking at that, and I was kind of thinking of that movie 'Twister' where someone tried to tie themselves into a telephone pole and it didn't work." - Williamson County Sheriff's Lt. Craig Gripentrog
Source: NOAA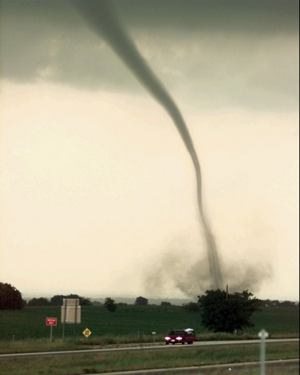 AP Photo/Austin American-Statesman, Ted S. Warren
Source: NOAA
MAP: MAY 27, 1997 TORNADOES
More than 20 twisters were spawned in Central Texas during the severe weather system on May 27, 1997, including the F5 Jarrell Tornado, the F3 Moody Tornado, the F3 Belton Tornado and the F3 Cedar Park Tornado.
Source: NWS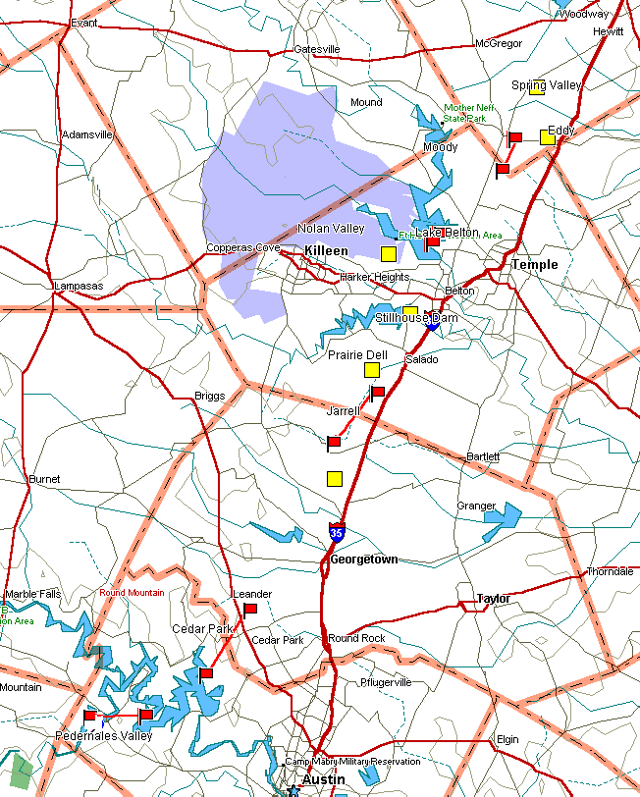 Graphic Courtesy of Lon Curtis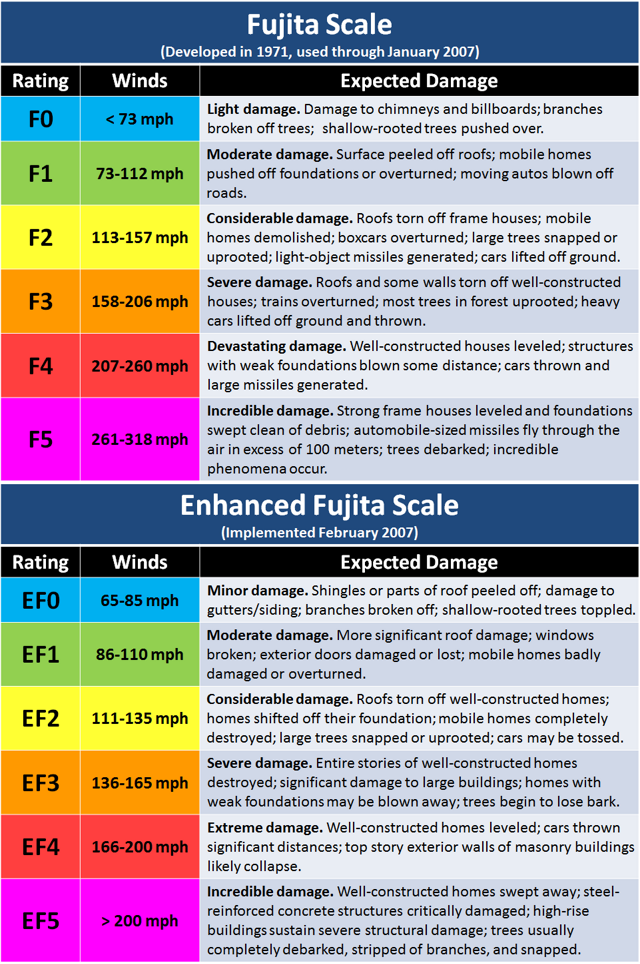 Source: NOAA
JARRELL TORNADO SURVIVORS SHARE THEIR EXPERIENCES:
Jarrell Resident Priscilla King:
Williamson County Sheriff's Cmdr. James David:
Williamson County Sheriff's Lt. Craig Gripentrog
GALLERY: Jarrell Tornado Photos
NWS TORNADO WARNING FOR JARRELL:
WFUS1 KSAT 272030
TORSAT
TXC491-272130-
BULLETIN - EAS ACTIVATION REQUESTED
TORNADO WARNING
NATIONAL WEATHER SERVICE AUSTIN/SAN ANTONIO TX
330 PM CDT TUE MAY 27 1997
THE NATIONAL WEATHER SERVICE IN AUSTIN/SAN ANTONIO HAS ISSUED A
TORNADO WARNING EFFECTIVE UNTIL 430 PM CDT
FOR PEOPLE IN THE FOLLOWING LOCATION...
IN SOUTH CENTRAL TEXAS
...WILLIAMSON COUNTY
AT 325 PM A TORNADIC THUNDERSTORM WAS LOCATED ABOUT 5 MILES WEST OF
JARRAL MOVING SOUTHEAST AT 10 MPH. THIS STORM HAS HAD A HISTORY OF
PRODUCING TORNADOES AND LARGE HAIL. THE CITY OF JARREL IS IN THE
PATH OF THIS STORM.
IF YOU ARE CAUGHT OUTSIDE...SEEK SHELTER IN A NEARBY REINFORCED
BUILDING. AS A LAST RESORT...SEEK SHELTER IN A DITCH OR LOW
SPOT AND COVER YOUR HEAD.
PEOPLE IN OR NEAR THE PATH OF THIS STORM SHOULD TAKE IMMEDIATE ACTION
TO PROTECT THEIR LIVES. GO TO THE CENTER ON THE LOWEST FLOOR OF YOUR
BUILDING...COVER YOUR HEAD. STAY AWAY FROM DOORS AND WINDOWS. DO
NOT STAY IN MOBILE HOMES OR VEHICLES...GET INTO A STURDY BUILDING.
NNNN
NOAA JARRELL TORNADO REPORT:
NOAA DAMAGE SURVEY OF MAY 27 TORNADOES: